Higher Ed leader shares MBA information
Butch M. Sarma has been an adjunct since 2007 and MBA program director since 2018.
Are you a working adult learner with over five years of experience that wants an MBA (part-time, weekend, online, hybrid, Professional, or Executive)?
If you want the part-time/weekend MBA experience see my content. I do not work at a university with a full-time MBA program, so I will not have much content on that.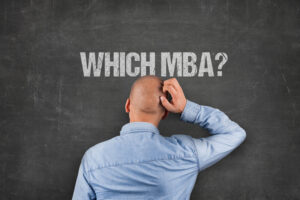 What are the format options for MBA programs?
Basically, you have in-person, online, and hybrid. In-person is the traditional format of a professor leading an in-class discussion with all students in the same room. Online can be synchronous (the content from the professor is delivered at the same time to all students in a set schedule wherever they are) or asynchronous (think binge-watching on Netflix, the content is available 24/7 and may be watched at the student's choice of time and location). Some MBA programs mix the two online modalities to improve engagement during case discussions. Hybrid is a blend of the two formats (in-person and online). At some university's the hybrid format may be called called "HyFlex".
Why focus on the working adult part-time/weekend MBA?
It is the format that I work in and have the most experience in. Nothing against the full-time format, but I do not know much about it.
For some people, they want a full-time MBA after working a couple of years and will stop working to go full-time at a ranked MBA program with the hopes of a major career boost upon graduation. I think that is great for those that can afford to stop working and put their life on hold during the 2 year MBA program.
For other people, they might be working in a field or company they really like and do not want to stop working to get an MBA. Or they want to balance their work, life, and MBA studies over a slightly longer duration. Some people want an MBA in the area where they live and plan to stay during their career.
This website is for working adult learners with over five years of work experience that want a part-time/weekend MBA.