Keeping to my perspective of part-time/Weekend MBA programs, financial aid for graduate students is a challenge because you are working while doing the program. The expectation is that your employer is sponsoring you for 100% of the cost or some portion of tuition.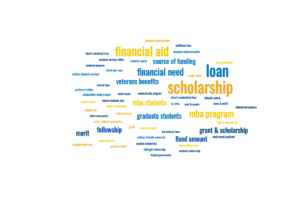 For MBA students, financial aid can be categorized into these types: Loans, Grants & Scholarships, Veteran benefits, and Other. Most MBA students in part-time/weekend programs are receiving an employer tuition benefit. The amount can be 100% of tuition or a fixed amount. For example, Capital One gives a fixed amount of $5,250 per year.
Loans
All students should first complete the Free Application for Federal Student Aid (FAFSA). There are several types of federal student loans including Federal Direct PLUS loans, which are low-interest loans not based on financial need. Federal direct unsubsidized loans are also not based on financial need. Federal direct subsidized loans are based on financial need. The federal government pays the interest during in-school, grace, and deferment periods. Your bank or credit union may have additional loans for you to consider.
Grants & Scholarships
Grants are usually need-based and not repaid. They are difficult to get as a graduate student because they are mostly for undergrads. Scholarships may be need, merit, or affinity-based and are not repaid. Some programs have scholarships available for early-round applicants such as William & Mary's 1693 scholarship.
Veteran Benefits
For eligible vets, dependents, and select others, the GI Bill can be a material source of funding. If you are eligible, contact your school's Military Student Service office right after you accept the offer of admission. Here is a LinkedIn article I wrote about military-friendly universities.
Other
Some MBA programs offer fellowships which are like scholarships and are not repaid. Fellowships may provide special access to faculty and an independent study project. Graduate Assistantships can be a source of funding. Generally, these are merit-based and students will work in administrative units or with research faculty. Some private-sector industry associations have external scholarships. The IRS allows withdrawals from your IRA for educational purposes without a penalty. 529 accounts can be used for graduate school. Fulbright scholarships are coveted scholarships if your program is overseas.
There are lots of good resources on financial aid including US News & World Report, Poets & Quants, Investopedia, Edvisors, and SoFi.