Getting your MBA degree in the USA as an international student is a goal many people have. The USA has over 3,900 colleges and universities and more than 500 that offer MBA degrees. Supporting international students is a major policy goal of America and a source of much pride. If you are looking for an MBA in the USA what should you consider? I suggest these five factors: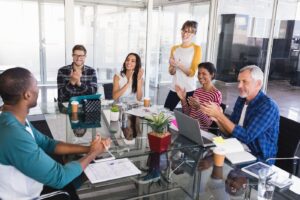 FIRST, research what MBA programs you want to go to. As an international student on an F1 visa, you must attend a full-time MBA program. Consider the program's reviews, rankings, and concentrations. Also, make sure that you fully understand the location of the University you are considering. Why do I say that? The USA is a vast country spanning many time zones and is more than 3,000 miles wide. You can not attend an MBA program in New York City and pop over to Los Angeles for the weekend without a long air flight each way.
SECOND, plan how you will pay for graduate school. You will have tuition and fees, housing, healthcare, and travel expenses to study in the USA. Generally speaking, USA federal loans are not available to non-citizens for tuition. Here is a post on financial aid. Graduate assistantships and other work-study programs may be available on campus based on need. However, you must include housing & living expenses which can vary greatly between major cities like New York City, NY, and Charlottesville, VA. Health insurance may be required for F1 visa students. In the USA healthcare is expensive and all students will have to provide their immunization records. Most universities have a student health center that can provide basic care. Your country may sponsor graduate students and you should check into that. Travel from the USA to your home country can be expensive and needs planning. The academic calendar at most universities offers several breaks during which there are no classes for holidays, reading days, and the end of a semester. Staying on campus may be an option during these breaks.
THIRD, apply to the programs that you want. My posts on thinking about an MBA and this video may be helpful. You may need to have your undergrad and other degrees evaluated and courses transcribed into the US GPA system. There is a fee for this service. See this VCU site under the Foreign Transcripts tab. Note, if English is not a language that you know, you may have to prove fluency in English in order to be accepted to a US MBA program. The TOEFL exam is one of many tests used to assess your English language proficiency.
FOURTH, schedule an interview with a US consular office. The interview is required and the waiting time can be many months long. There are many required documents and forms that you must have completed plus pay a fee. Failing to prepare for this interview fully will delay your plans for a US MBA education. American University has some great tips here. Getting a Visa is an important step and determines the start of your US education.
FIFTH, consider other options such as starting a graduate program in your home country and completing it in the USA. For example, Christ University (CU) in India partners with Virginia Commonwealth University (VCU) to offer a dual degree MS/MBA with students completing one year of graduate school in India and then the second year at VCU in Richmond, Virginia. You can learn more here about this successful partnership here. I have had many CU students in my MKTG 675 Digital Marketing course over the years and I think the program works very well!
I have enjoyed meeting MBA students from every continent over the years. They add a perspective to class discussions that US students generally do not have. Learning about their culture and hearing their plans after graduation has been one of the best parts of my university job.
TLDR: Start early and be fully prepared for getting your MBA in the USA as an international student.